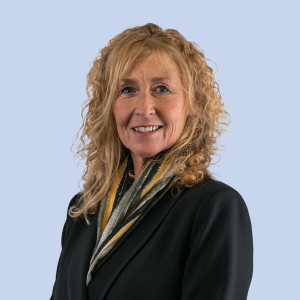 Role: Director of Nursing & Care
Maria is a Registered Mental Health Nurse, whose most recent role was as Nurse Director for South Lanarkshire Health and Social Care Partnership (SL HSCP), and Deputy for the Executive Nurse Director for NHS Lanarkshire. Maria has studied at both Dundee and Queen Margaret Universities, completing Msc Advanced Practice Diploma and Post Graduate Certificate in Cognitive Behavioural Therapy.
Maria has held Clinical Lead Roles in the Partnership for Mental Health and sat on South Lanarkshire Alcohol and Drug Partnership Board, both as Nurse Director for SL HSCP and as NHS Lanarkshire representative. She has experience in holding key roles in Public Protection including being part of the Chief Officers Group in South Lanarkshire. These roles covered a span of professional nursing governance and formed part of an accountability framework that empowers nurses at the frontline to collaborate effectively in the delivery of integrated services.
Maria is presently a Trustee and Non-Executive Director of the Erskine Charity.
Thank you for your feedback
What would have made this page more helpful?